About Our Events > Current Events
Current Event(s)
EXPLORE + CONNECT + COLLECT
Xiem SPRING Studio Sale
Pasadena's Premier Contemporary Ceramics Event
... just in time for Mother's Day!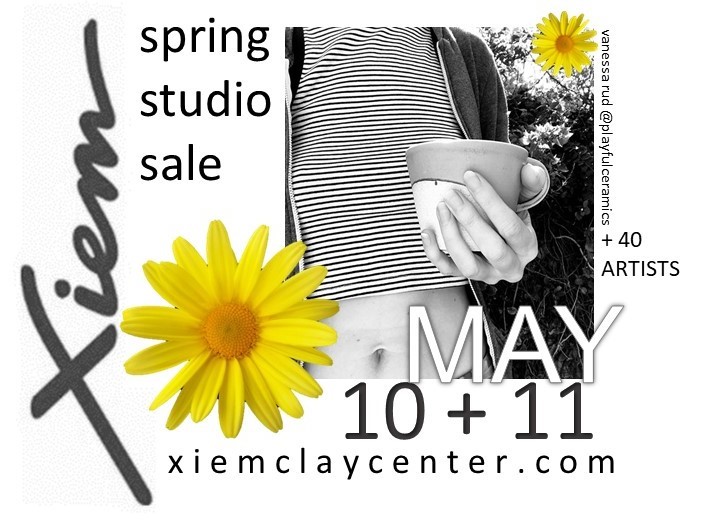 Our 15th Annual Spring Studio Sale will showcase the skill and passion of 40 studio artists associated with Xiem Clay Center. Preview new collections by your favorite artists, discover new talent and enjoy hundreds of unique hand-made ceramics with a wide range of prices.
EVENT:




Xiem SPRING Studio Sale


Featuring 40+ Artists: Xiem Studio Members, Xiem Students and Invited Guests
ARTISTS:

ALICE Vaughn AMY Kuo ANN Cutting BECKI Chernoff CATHY Reichel-Clark CAROL Aronowsky CHRISTINE Schwandt CHRISTY Johnson CINDY Jarasunas DAARINA Abdus-Samad ELWIRA Miezal GERMAINE Defendi HEATHER Morrow HEIKE Fritz-Scherer JEANETTE Crofts JO Mann JOAN Aebi JOAN Laidig JOANNA Grasso JOSIE Portillo JUNE Wong JUNZO Mori KATE Nixa KIM Lesak KIMBERLEIGH Aarn LAURA Knell LEIA Morning LISA Barnet LISA Simone LOURDES Jimenez LUANNE NANCY Koon NORA Petersen RAFAEL Lopez-Barrantes RENA Aguirre RITA Valencia ROSA Dennis TOM Glavich TOM Recchion TREV Ram VANESSA Rud VY Trinh YASUE Yoshioka YOKO Iida

DATES:


Friday, May 10th: ALL WELCOME!
Preview with refreshments and LIVE MUSIC
6pm – 6.45pm: Toti O'Brien - accordion
7pm – 7.45pm: Buzhard Dakota - guitar
8pm - 8.45pm: Leia Morning - harp
Bass accompaniment: LUANNE




Saturday, May 11th: MEET THE ARTISTS!
Discover amazing handmade ceramics and grab some delicious lunch from DINAS DUMPLING - the best pink food truck in LA.



HOURS:
Friday, May 10th, 6pm – 9pm
Saturday, May 11th, 10.30am – 4.30pm

---